The Zirconium Oxide Expert... Zircoa, Inc.
This information is intended to answer frequently asked questions (FAQs) regarding the processes and classes of ceramic and refractory products we produce using Zirconium Oxide and the people that produce them.
The materials backbone of Zircoa is our own Zirconium Oxide raw materials plant. An exclusive thermo-chemical process converts Zirconium Silicate to Zirconium Oxide. Produced in abundance, our Zirconium Oxide serves the needs of not only our customers, but also our competitor's.
Products from Zircoa provide science and industry with a means to develop, produce and deliver what may otherwise be impossible to achieve, but Zircoa's accomplishments are not accidental. Zircoa, Inc. finds ways to involve all employees and consistently demand changes in how things are accomplished.
The Company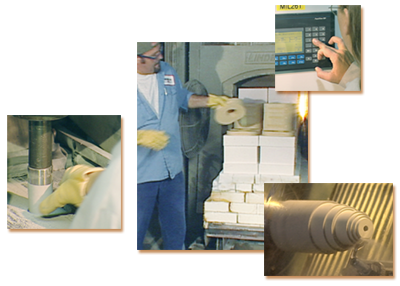 In 1952, in the fires of a box kiln, within what was once an old Cleveland Police Department horse barn, a new refractory was created. A combination of raw materials, engineering, chemistry, research and finance were successfully combined and transformed to answer the special needs of a customer. In the process, a new company was also created — Zirconium Corporation of America, which was later to become Zircoa, Inc.
Zircoa relocated to Solon, Ohio in 1953, and remains there today. Decades later they have continued to grow their facility, now occupying almost 3 acres. Company ownership changed several times throughout its history. In 2010 Zircoa became a privately owned corporation. They are committed to keep manufacturing companies and jobs in Northeast Ohio, with leadership in material technology and manufacturing practices that are globally competitive.
Our People
Teamwork at Zircoa has not only resulted in on-going product improvement, it has produced significant productivity increases. Zircoa's team is strong and effective because everyone shares in the challenge of running the business. Zircoa's gain sharing program truly involves the entire company, and has even won the praise of union leadership: "It helps people work together for common goals… It is the engine that makes this place run."
As Zircoa begins its second half-century, we remain sensitive to our customers, and are wholly committed to invention, innovation and the manufacture of quality products.
Our Processes
Zircoa, Inc. engineers and manufactures specialty ceramic materials. Our products are made from a combination of Zirconium Oxide and one of three stabilizers, depending upon the application. Zircoa uses traditional ceramic processes to shape these formulas, including: pressing or casting.
The green bodies are fired from several hours to several days at temperatures exceeding 3000°F, then cooled to room temperature. The transformation may not end there. Many products require final finishing, including: grinding, sawing or polishing.
Our Pressed & Cast Products are Divided into Two Classes:
1. Technical Ceramics (www.zircoa.com/fine.grain)— Technical Ceramic products are extremely dense, very smooth, impervious and wear resistant. Technical Ceramic products include:
More...
...About Zircoa, Continued
2. Specialty Refractories (www.zircoa.com/coarse.grain)— Specialty Refractory products are typically porous and rough-looking, and are often used in environments where thermal shock resistance is important. Specialty Refractory products include:
A Third, Special Category of Zircoa Products Include:
3. Granular Forms (www.zircoa.com/granular) of Zirconium Oxide: